We are Lucas and Christa, blessed with our son Saulo. We experience that God brought us together and blessed us, so that we can bless others. We are blessed to work in the missionary field in Brazi, under the global missionary movement Youth With A Mission – YWAM.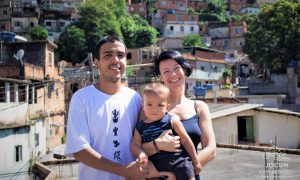 Since 2013, Lucas has been active in YWAM in the favela Borel – Rio de Janeiro. Here we met each other in 2016, when Christa came to do her training, and continued working in YWAM.
In the period from 2017 to 2019 we were learning while serving among Indigenous tribes in the Brazilian Amazon; How to convey God's truth in the local culture.
Our hearts long for all peoples to know God and live with Him.
Through our logbook on this site, we would like to invite you to be part of this missionary work.
Blessings!
Lucas & Christa